It may not be easy to find the right lens adapter to make the laser barrel longer/shorter. One way is to make some spacers. Cut a few rings from acrylic or wood as spacers. MAKE SURE the laser beam will NOT burn the spacers though. Two positions for placing the spacer: next to the lens; next to the outer male thread. See below.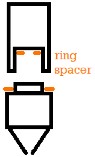 If getting a second barrel is not easy and you want to change the lens conveniently, consider mounting the lens on the adapter. It may take a few tries to mount the lens at center because the lens diameter may not fit perfectly. However, you need to have some extra threaded rings. If you have a rotary and time, you may make one. We will talk about the fun next time.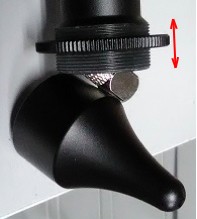 Our PRO laser head has an adjustable stop, so the distance between the nozzle and workpiece can be adjusted. Air flow is very important when cutting some materials. Spending some time on the setup can save you a lot of production time.